Practical application for future military observers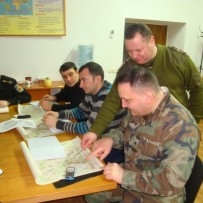 Chisinau, February 25th, 2013 – The practical application on maps is conducted at the Center for continuous training of the "Alexandru cel Bun"  Military Academy, organized within the training course in order to prepare the officers for accomplishing missions in Moldova's security zone.
According to Major Viorel Sîrghi, head of training and peacekeeping operations section – deputy chief of the Center for continuous training, the military will have the task of solving real-world situations using the map and software, during the practical application.
We remind that from  February 18th to  March  5 th 2013 within the Center for continuous training of "Alexandru cel Bun" Military Academy the training course for National Army's officers is conducted. The mentionned course is designed for the officers that will have missions in the Security Zone of the Republic of Moldova as military observers and staff officers for Command of Joint Peacekeeping Forces.