International experience involving military students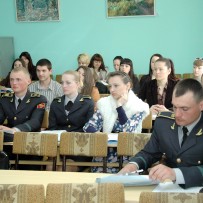 Chisinau, April 25, 2013 – On April 25-26, this year, the students of Armed Forces Military Academy "Alexandru cel Bun",   participated at the international conference entitled "The Development of Higher Education and democratic society in the period of  market economy in the European context". The event took place at "Perspectiva-Int" University and it was organized in collaboration with the Ministry of Education of Republic of Moldova.
According to the organizers, at the conference participated scholars, professors and students from the fields of: history, political science, pedagogy, design, representing several countries, among them- Austria, Canada, the Ukraine and Republic of Moldova.
According to the lieutenant-colonel (r) Anatolie Lescu, lecturer at Humanities and Modern languages, the military students participated in the scientific section of history, political science and international relations. They were supported by a group of lecturers from the institution, presenting the information from reliable sources, thoroughly documented and in conformity with the proposed field.
During the presentation of the work, military students, focused on the topic of history one of the basic themes as "The Fortress Hotin Presentation in an European Context".
It is to be mentioned the fact that the participation of professors and students at this conference is for the very first time for Military Academy "Alexandru cel Bun".