Bilateral meeting at the Military Academy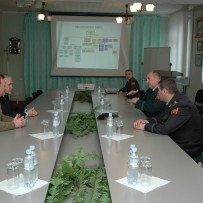 CHISINAU, April 26, 2013 – On April 26, this year, Armed Forces Military Academy "Alexandru cel Bun" was visited by Deputy for Resources of the Staff Chief General of the Romanian Ministry of National Defence, rear admiral Niculae Valsan. The guest had a working meeting with representatives of the military institution.
             During the visit, the Commandant (rector) of Military Academy, Colonel Mihail Bucliş, gave those who were present a brief overview of the basic objectives and tasks of the institution and at the same time, presented the retrospective collaborative activities and actions and external cooperation towards  modernization and reorganization of the institution to adjust it to international standards.
According to the working group, the Academy has made maximum efforts in training military competent personnel, and promoting the military profession in the civil society. Continuous training of military personnel allows an exchange of continuous operability at the ministry level.
        The Commander (rector) thanked the Romanian side for the assistance given to the Military Academy in the implementation of some projects in the military studies development and training Moldovan militaries in Romanian institution.