International Scientific Conference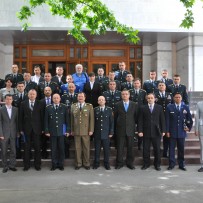 CHISINAU, May 29, 2013 – On May 29 this year, in the conference room of the Ministry of Defence, Military Academy of the Armed Forces "Alexandru cel Bun" was organized and held the international scientific conference "Moldova under the international security architecture. UNO – joint efforts for peace".
This scientific event was developed on the occasion of the International Day of United Nations peacekeepers, an event of a significant importance for the National Army of Moldova which is a member of the UNO. During the conference there were communications by military attaches accredited in Moldova, military experts, researchers of the  Military Academy "Alexandru cel Bun".
According to the General Brigadier Igor Cutie,  the deputy chief of the General Staff of the National Army – General Staff Director: "Today's activity is part of attempts to tackle an issue that directly stresses the particularities of national security, providing assurance of the security fields, of the elements of the State concerning all its aspects, which ensures and guarantees, indirectly the international security".
The promotion and the application of theories and scientific researches aimed at strengthening the national security of the state, according to some reviewers, can be achieved only through a joint effort of experts in the field, of the  scientific framework of the country and through a high degree of national and international cooperability.