Students of the Military Academy in the Night of Museums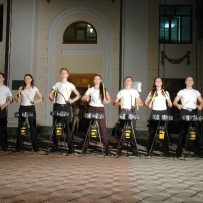 Chisinau, May 20, 2012 –The military students participated in the Night of Museums, organized on the 18th of May, this year, within the Center of Culture and Military History from the capital.
The Defense Minister Vitalie Marinuta was an honored guest at the mentioned event. The official welcomed all the people present there and thanked the organizers for the responsibility they have in organizing such activities.
According to organizers, the students of the Military Academy "Alexandru cel Bun", participated as actors and they had the mission to represent some moments from the history of our nation.