Graduates were given jobs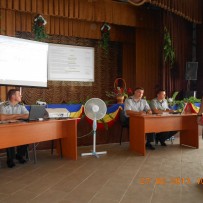 Today, June 27, 2013 –In the Military Academy of Armed Forces "Alexandru cel Bun" the graduates – 2013 promotion were given jobs in different specialties of the National Army.
          Allocation committee was led by Colonel (r) Vitalie BUTNARU, head of the human resources management of the Ministry of Defence.
          The 67 graduate students of 2013 promotion chose democratically the place of continuing the military service, according to the general position in the list depending on the graduating average of general studies acquired during 2009-2013.
         Thus, all the graduates of National Army specialties have become owners of a place of military service in one of the units of the National Army.