Diplomas were handed to the graduates of Military Academy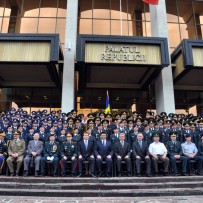 Chisinau, June 30, 2013 – On the 30th of June, this year, in the Palace of the Republic, was organized a festive graduation ceremony of the Military Academy of Armed Forces "Alexandru cel Bun", 2013 promotion.
          Mr. Iurie LEANCA, the prime minister, participated at the graduation ceremony.
          The Minister of Defense, Mr. Vitalie MARINUTA, the Minister of Internal Affairs, Mr. Dorin RECEAN, the Minister of Education, Mrs. Maia SANDU and other important personalities.
During the graduation ceremony, the 124 graduates of the Military Academy (25 infantryman, 18 gunners, 24 transmission men, 32 border policemen and 25 carabineers) were awarded diplomas and conferred the military rank as the primary body officers – "lieutenant".
Moreover, the outstanding students: Vadim BIRCA (infantry), Roman BOCICARIOV (artillery), Nicolae STAVITA (transmission), Serghei BOBEICO (border police) and Anatolie GISCA (carabineers) were stimulated with badge "Eminent Military."
Before the graduation ceremony, the young officers attended the church service, held at the Metropolitan Cathedral "Nasterea Domnului" and then they have solemnly laid flowers at the monument of Stefan cel Mare si Sfant.