English and German courses were completed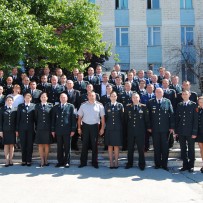 Friday, June 21, 2013, 44 militaries and civilians, within the large units, military units and institutions of the National Army have completed basic intensive courses and intermediate one of English language and the basic course of studying the German language.
            General brigadier Vitalie Stoian, Chief of the General Staff of the National Army, commander of the National Army participated at the official ceremony of awarding certificates of proficiency.
                  Brigadier General Vitalie Stoian congratulated graduates of June 2013, emphasizing the importance of language training for staff of the National Army and the Armed Forces in accordance with STANAG 6001 criteria.
Language training courses lasted for 19 weeks.
           Up till now, about 877 people have completed courses in English and German languages through the Language Center of Military Academy.