Graduate students have held license theses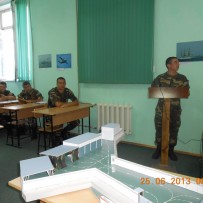 On June 24-26, 2013, the graduate students of the Military Academy of Armed Forces "Alexandru cel Bun" held the license theses.
Undergraduate theses were held in front of the State Commission, lead by General Brigadier Igor Cutie, Deputy Chief of General Staff of the National Army – head of the General Staff.
The 124 graduates of the Academy have demonstrated deep knowledge in organizing and improving the command and control system, the use of communicating and computing means, the design of different simulators, and as well as weapon management systems.
According to Colonel Iurie Girnet, the vice president of the State Commission, the results of this year are much better than those of the 2012 promotion.