Military students – blood donors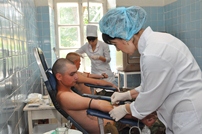 Chisinau, June 14 2013 – The students of the Military Academy of Armed Forces "Alexandru cel Bun" together with Minister of Defence, Vitalie Marinuta, donated blood voluntarily, within the campaign organized by Ministry of Health, jointly with the National Centre of Blood Transfusion and the local public administrations, on the occasion  of World Blood donator, entitled "Donate blood – give life".
Vitalie Marinuta declared that the voluntarily blood donation is a civil duty of everybody and he urged all the citizens of the Republic of Moldova to join the world community in saving human lives. "Militaries of National Army, through their systematic participation in this action, aim to show how valuable it is the gesture of donating blood and encourage in this way, all citizens to follow the example", said Defence Minister.
In the garrison of Chisinau, the militaries by contract and students joined the citizens of the capital and donated blood at the collection place in the square of the Public Garden "Stefan cel Mare".
            Over 100 militaries by contract and 60 students of the Military Academy "Alexandru cel Bun" attended the voluntary blood donation campaign in Chisinau.