Twenty one years of activity of the Military Academy of the Armed Forces, "Alexandru cel Bun"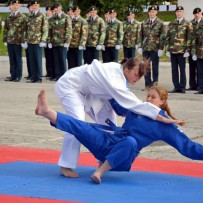 On the 5th of October 2013, the Military Academy of the Armed Forces "Alexandru cel Bun", celebrated the XXI anniversary of its creation.
The Defence Minister Vitalie Marinuta was present at the event.
Vitalie Marinuta said that along these 21 years, the Military Academy has managed to turn into an educational institution that is appreciated at a national and international level.
"The Military Academy is the only institution of military education in Moldova and it is proud of its excellent students of the country as well as those who make positive image outside Moldova, the highest performances being obtained in studies in military schools from Greece, Turkey, Romania and the U.S.", said Defence Minister.
During the ceremony, several soldiers and teachers were awarded distinctions, "Crucea pentru Merit", the  II and III degree, and the badge "Recunoștință" for the fulfillment of service duties and performances in the activity.
Visitors were familiar with the infrastructure, facilities, activities and structure of the Military Academy "Alexandru cel Bun".
The students of the Military Academy and those from Honor Guard demonstrated wrestling methods and weapons handling.
The colonel Mihail Bucliş, commandant ( rector ) of the Military Academy, said that, during 1995-2013, the military has trained 1,700 officers in specialties: infantry, artillery, communications, border guards and carabineers .
Since 2012, for the first time the Military Academy  "Alexandru cel Bun" registered girls studying at specialty transmissions and beginning with this year to other specialties.