Teachers and students of the Military Academy participated in the workshop organized by TAIEX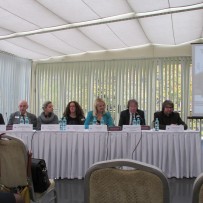 From the 17th till the 18th of October 2013, representatives of the Military Academy of the Armed Forces,
"Alexandru cel Bun", Lieutenant Colonel Gennady Safonov, Major Ludmila Ianovici – Pascal and Sergeant Mihail Buclis attended the  "Workshop on Student Centred Learning in Higher Education Institutions", organized by TAIEX (Technical Assistance and Information Exchange), in collaboration with the Ministry of Education.
The workshop was held in Chisinau Leogrand Hotel.
TAIEX is an instrument managed by the General Directorate for Enlargement of the European Commission and supports the partner countries regarding the harmonization, application and enforcement of EU legislation.
The workshop was focused on sharing experiences and best practices for implementing a student-centered Education and learning Goals in Higher Education at the national level.
The TAIEX expert team was composed of: Dr. Terence Clifford – Amos (UK), Dr. Aphrodite Ktena (Greece), Dr. Ernő KÉSZ (Hungary), Dr. Janerik Lundquist (Sweden), Dr. Christian Ganseuer (Germany) and Karina Ufert (Belgium).
The activity was attended by managers, teachers and students from all higher education institutions from Moldova.