Cooperation between the Military Academy and AGEPI continues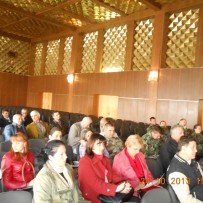 On the 24th of October 2013, within the Military Academy of the Armed Forces "Alexandru cel Bun" there was organized an activity regarding the copyrights.
This activity was attended by the teachers of the institution.
Representatives of the State Agency for Intellectual Property (AGEPI) of the Republic of Moldova explained to the teachers how to ensure protection of the rights and legal interests of authors and copyright holders.
Also, it was discussed the examination and registration of license agreements as well as property protection.