Technical management of radio spectrum in the viewfinder of the Signaling students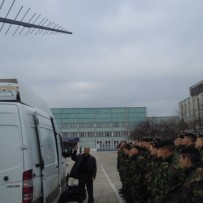 On the 26th of  November  2013, the director for Development and Maintenance of the State Enterprise "National Center for Radio Frequencies ", Ovidiu Spătaru , along with a group of specialists from the Centre held, a number of theoretical and practical activities together with students of the Military Academy of the Armed Forces "Alexandru cel Bun" with the topic  "Technical Management of radio spectrum in the Republic of Moldova" .
According to the dean of the Faculty of Military Sciences, Lieutenant Colonel Ghenadie Safonov, the visit of the National Radio Frequency Center specialists falls within the context of professional military communications and the mentioned activity falls within the curriculum , signal specialty. The Students had the opportunity to get acquainted  with the movable  means of electromagnetic spectrum from the National Center for Radio Frequency endowment.
The activity aims to familiarize signal students with the tasks, duties and legal framework of the institution activity, ability in the technical management of the radio spectrum.