International Day of quitting smoking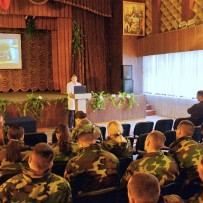 On the 21st of  November  2013, according to the World Health Organization Events for 2013, the Military Academy of the Armed Forces "Alexandru cel Bun" organized a briefing of informing the military staff about the damage of the smoking.
The militaries were informed about national tobacco control program for 2012-2016. The damage and consequences of smoking among the population have been discussed at this briefing.
According to organizers, the purpose of organizing this day is to encourage people to take strict smoking measures regarding tobacco and to understand the risks they are exposed to while smoking.
The International Day for quitting smoking was announced to be the third Thursday of November.