Workshop for English language instructors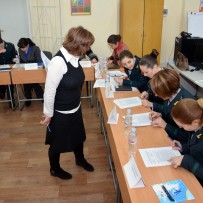 From the 28th of January till the 30th of January, 2014 the workshop "Tailored seminar for teachers" takes place within the Linguistic Centre of the Military Academy of the Armed Forces "Alexandru cel Bun".
According to head of linguistic centre, Major Ludmila Ianovici -Pascal, this workshop is organized and conducted by BILC experts (International Cooperation linguistics Bureau), Mrs. Peggy GARZA, Head of the linguistic programs within the Marshall Center, Germany, as well Garmish as well as by Mrs. Dubravka ZUPANEC, Linguistic Training Department, Slovenia .
The same source said that the aim of the workshop , "Tailored seminar for teachers" is focused on developing the basic language skills: speaking – (speech understanding) and writing – (understanding written discourse), including methods and techniques of teaching the mentioned skills,  advantages and disadvantages of working in groups as well as exchange of teachers' experience.
This workshop is for English instructors of the Linguistic Center of the Military Academy, Motorized Infantry Brigade 1, for the testing team as well as for English teachers from the Department of Humanities and foreign languages of the Military Academy of the Armed Forces "Alexandru cel Bun".
However, assistance will be given to the testing team of Linguistic Centre according to STANAG 6001 criteria.