The international experts evaluated the activity of the Military Academy for the year of 2014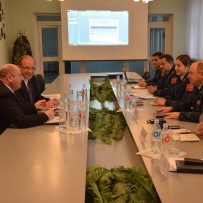 CHISINAU, January 21, 2015 – During 19 to 21 January, a team of NATO experts paid a working visit to the Armed Forces Military Academy  "Alexandru cel Bun" .
In that period, the delegation led by colonel (ret) John Troxell, professor at the War College (USA ) and colonel Florian Cîrciumaru, Head of International Operations and Crisis Management Department, National Defense University "Carol I" ( Romania ), made post-active analysis of joint activities carried out during 2014, cycles I, II and Postgraduate Course in the field of security and national defense.
Commander (rector) of the Military Academy, colonel Mihail Bucliş said that the purpose of the working visit is to apply IPAP objectives to the development of the Military Academy, within the DEEP program (Defense Education Enhancement Program), and according to the plan of activities that will be undertaken in order to modernize the educational sector and scientific development of the academy for the years 2014-2015 .
Also, NATO expert team attended postgraduate courses. Besides, the experts had a meeting  with the Minister of Defense Valeriu Troenco, during which highlighted the progress of the Armed Forces Military Academy "Alexandru cel Bun" in 2014, noting that the educational institution and the Ministry of Defense have made significant efforts regarding the development  and modernization of the higher military education.