"There was a war in my country"- 1992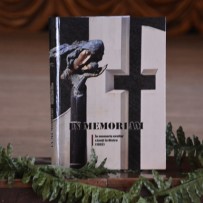 CHIŞINĂU, February 27, 2015 – Employees of the Armed Forces Military Academy "Alexandru cel Bun" paid tribute to the fallen heroes fighting to defend the integrity and independence of Moldova, during a commemorative activity, entitled "There was a war in my country", organized this February 27.
Attending the event, commander (rector) of the Military Academy, colonel Mihail Bucliş stated: "The day of March 2 – will remain in our history as Remembrance Day, the memory of those patriots and heroes who during the years 1991-1992 gave their lives fighting for the nation and motherland. It is very important that we pay tribute to those who fell on the battlefield. To honor the memory of our nation patriots who even today know how to keep that patriotic verticality of our country."
The program included excerpts from the documentary film representing historical events of armed conflict on the Nistru river.
Subsequently, military students recited poems dedicated to the heroes and participants of the war in 1992. In memory of those who died on the battlefield a minute of silence has been observed.
Veterans of Nistru war working in the Military Academy were invited at the event. As a sign of respect and profound gratitude the guests received flowers.
On 2 March 2015 there will be 23 years since the beginning of armed conflict for independence and integrity of the Republic of Moldova.
This day is officially called "Remembrance Day".