US military Cadets – Military Academy trainees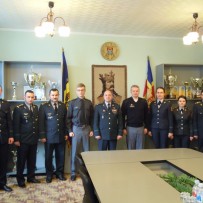 CHISINAU, March 20, 2015 – Commander (rector) of the Armed Forces Military Academy "Alexandru cel Bun" colonel Mihail Bucliş, had a meeting today with two cadets from West Point Academy, that take part in a traineeship within the institution.
While discussing with the cadets David Sundberg and Andrew W T Plautz, colonel Mihail Bucliş pointed out that " American students internship within theMilitaryAcademy"Alexandru cel Bun" is part of the "Foreign Exchange Academy Program " which provides cadets exchange between military institutions fromMoldovaand theUS.
In turn, the cadets thanked the Military Academy leadership for their hospitality and diverse program of activities in which they had the opportunity to know both the aspects of military training as well as those related to the cultural domain.
The visit of the cadets from the USA West Point Academy, during March 14- 22, is a premiere for the Armed Forces Military Academy "Alexandru cel Bun".
Subsequently, on April 22 – 28, 2015, for the first time, two students fromMilitaryAcademywill travel to theUS, to exchange experience within the US West Point Military Academy.