Postgraduate Course Graduates in security and national defense field received their diplomas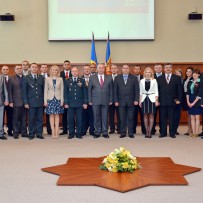 CHIŞINĂU, 28 April 2015 – Minister of Defense,Viorel Cibotaru, handed on  April 28, diplomas and badges to postgraduate course graduates in national security and defense, during a ceremony held at the Ministry of Defense.
Minister of Defense congratulated the participants, mentioning that the education received at the National Security and Defense will enable civil servants in the implementation of the  acquired  knowledge in  their  subsequent service work.
According to the commandant (rector) of the Armed Forces Military Academy  "Alexandru cel Bun" colonel Mihail Bucliş, Postgraduate course in security and defense was held from January 19 to April 24 this year. 30 participants enrolled in this course,  having direct and indirect attributions to the development of national security system.
The cited source pointed out that the postgraduate course duration was 14 weeks and curricula are similar to those courses of the National Defence Colleges of Romania, Britain, France, USA, Canada, Poland, Germany, Italy and Estonia.
The same source noted that the curriculum and teaching activities were carried out on a voluntary basis by academic experts nationally and internationally, such as PfP Consortium (US War College, the Italian Defense College, Baltic College, National Defense University in Romania, National Defense University of Poland, the Czech National Defense University, University of the Bundeswehr in Germany, US Naval Postgraduate School, the NATO School in Germany).
Also, representatives of the Presidency, Government, central public authorities, the Academy of Sciences, NGOs and embassies volunteered to give  lectures  throughout the course.
This is the second promotion of the postgraduate course in national security and defense domain.
During the studies the participants had theoretical and practical classes, along with numerous familiarization visits to ministries, agencies, military units of the force structures , as well as the objectives of strategic importance to our country.
Military attachés accredited to Moldova, based in Chisinau, Bucharest and Kiev, as well as other international experts were invited to conduct theoretical classes.
The above  mentioned course in security and national defense is equivalent to postgraduate studies of  national education and includes theoretical and practical approaches of the current national and international security issues.