Congratulations to military students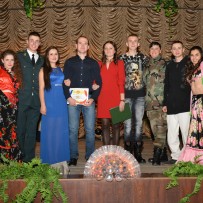 CHISINAU, November 23, 2016 – The leadership of the Armed Forces Military Academy "Alexandru cel Bun" organized a concert on "International Students' Day" in the festivity hall of the institution.
The commander (rector) of the Military Academy, Colonel Sergiu Plop congratulated military students, wishing them beautiful achievements during the trials and successes in their military career.
The concert's program was full of songs and dances prepared and interpreted by military students.
Therewith, the eminent students and those who were actively involved in student life were  mentioned
It is to be noted that this event is yearly celebrated in the Military Academy, on November 17, "International Student Day".