Meeting with fourth year students of Armed Forces Military Academy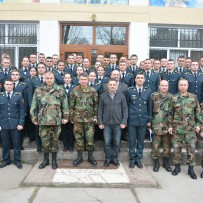 CHISINAU, November 23, 2016 – The Military Centre of Chisinau held the information meeting with students of the fourth year of studies from Armed Forces Military Academy "Alexandru cel Bun", referring to the center activity.
Chief of National Army General Staff, Commander of the National Army, Brigadier general Igor Cutie, who attended the event, said that such activities are welcome for future officers, which allows them to know the most important activities related to the process of incorporating in the National Army.
The Colonel Alexandru Nica, informed students with Military Center mission, and the work process of its subdivisions.
The commander (rector) Military Academy, Colonel Sergiu Plop, stressed the importance of such training sessions organized at the Military Centre because these are beneficial for future officers.
It should be mentioned that Armed Forces Military Academy and Military Center of Chisinau actively cooperates in promoting the image of the National Army among youth people.