Scientific approaches from the perspective of foreign experts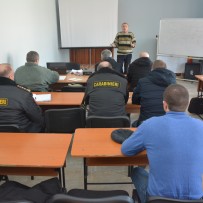 CHIŞINĂU, January 30, 2017 – The trainees of the postgraduate course in security and national defence, entitled "Current Issues of national security" participated in the public lecture on "National federalism and sovereignty in European construction", conducted by Professor Antoniu Martin of the University "Vasile Goldiş", Arad city, România.
During the lecture there were discussed different issues regarding migration processes at the current phase, the policy strategies for diverse sectors in the EU, trends and changes in patterns of approach to national security objectives, asymmetric attacks between the countries with a certain degree of vulnerability, federalization – from the perspective of theoretical approaches and national sovereignty.
The event took place in the Cultural Center of the National Army and Military History.