Graduation of studying English language courses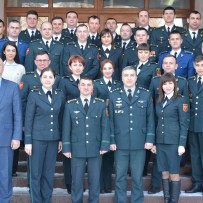 CHIŞINĂU, February 10, 2017 – A group militaries of National Army received certificates of graduation from basic and intermediate intensive English language learning within a ceremony organized by the Language Center of the Military Academy.
Attending the event, lieutenant-colonel Vitalie Tafune congratulated the graduates wishing them to actively participate in programs offered by different countries to National Army and advised militaries to participate in various international missions.
Also, the acting commandant (rector) of Armed Forces Military Academy, colonel Gheorghe Ţurcanu said that studying a foreign language ​​is a necessity for militaries because it offers them the possibility to apply to different courses abroad.
The head of Linguistic Centre, lieutenant-colonel (r) Ion Serjant, the course of English language was graduated by 28 militaries of National Army and took place from September 12, 2016 to February 10, 2017. The studying period included theoretical and practical sessions that included the development of the four skills of language performance (reading, listening, speaking and writing), the participants are evaluated at language skills according to modern standards. Finally, the students held an exam in accordance with STANAG 6001 criteria.