French military cadets have completed their military service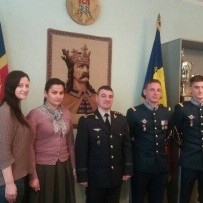 CHIŞINĂU, February 09, 2017 – Two cadets of the Military School "Saint-Cyr" Coëtquidan from France conducted a military service in the Armed Forces Military Academy "Alexandru cel Bun" from January 16 to February 10.
According to the acting commandant (rector) colonel Gheorghe Ţurcanu, French cadets had an extensive program of activities such as familiarization with the educational process of the institution, visit of military units in Chişinau garrison, and visit to museums and historical monuments of our country.
At the end of the internship, the cadets had a meeting with representatives of the Military Academy where they mentioned that the activities under the internship period were important and interesting for them, being able to know the military traditions and Moldovan culture.
Colonel Gheorghe Ţurcanu stressed that the French Republic is an important partner for Moldova and he wished the cadets a fine military career.
It is important that the second consecutive year the French cadets visit the Armed Forces Military Academy, and this is a fruitful cooperation at the institutional level.