Commemoration of Afghanistan conflict heroes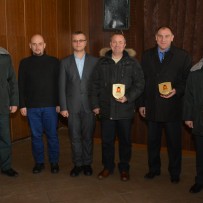 CHIŞINĂU, February 16, 2017 – The staff of Armed Forces Military Academy "Alexandru cel Bun" commemorated 28 years from the withdrawal of Soviet troops from Afghanistan and the cessation of military actions in that country.
At the meeting were invited veterans of military conflict, who told to those who were present at the event about dramatic moments lived in the military operations in Afghanistan, that marked their entire life.
At the same time, the activity was attended by the PhD in history Ion Xenofontov and by the writer and journalist Alexandru Cofcaliuc that as a result of an own scientific investigation (studies, articles, monographs), having a substantial documentation – in particular the information provided by witnesses. Also, they talked about the general context of the war in Afghanistan, ideological, physical and moral preparation of the combatants and also they presented an analysis in terms of military confrontation, barracks life, limit situations and survival strategies, the impact of war on the participants' lives including in the postwar period marked by Afghan syndrome.
The acting commandant (rector) Armed Forces Military Academy, colonel Gheorghe Ţurcanu stressed that it is important to keep in memory the remembrance of fallen heroes on the battlefield in the Afghanistan conflict, where suffered our fellow citizens participants in military actions.
The commemoration activity is held annually within the Armed Forces Military Academy "Alexandru cel Bun".