Training course of the National Army staff for fulfilling missions planned in joint peacekeeping posts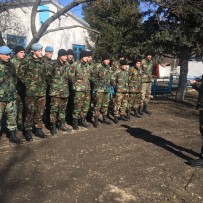 CHIŞINĂU, February 27, 2017 – The Centre of continuous training of Armed Forces Military Academy "Alexandru cel Bun" started the training course for the staff of the National Army planned in joint peacekeeping posts deployed in the security zone of the Republic Moldova.
According to major Sergiu Slavioglo, head of the training and operations peacekeeping department, the aim of the course is to develop practical skills in order to fulfill specific missions as well as to develop skills and leadership capabilities, as military specialist and leader. At the same time the course aims to prepare the staff of National Army that belong to soldier, sergeant and NCO category expected to complete the quota of Joint peacekeeping Forces.
It is important to stress out that Continuous training center instructors have an extensive experience in performing the service both in the Joint Peacekeeping Forces deployed in the security zone of the Republic of Moldova and in international peacekeeping missions under UN aegis.