Book presentation "Evolution of artillery"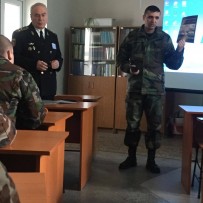 CHIŞINĂU, February 15, 2017 – Within the Armed Forces Military Academy "Alexandru cel Bun" was presented the book "Evolution of artillery" conducted by colonel (r) V. A. Samardac.
The book includes information on the development of artillery systems and tactics of waging the battle from the beginning of XV century until the end of XX century. The book is important for the development of students' knowledge.
The head of the Artillery Department, major Vladimir Raeţchi said: "This book will be a good support for those who are interested in the artillery development history and in the military art, but for students and officers it is mandatory to know its evolution. Knowing the premises and artillery development stages means to have a good base on research and improvement of this kind of weapon."
It is worth to mention that this activity was attended by both students and lecturers of the institution from Artillery Department.