The representatives of the Bundeswehr Academy in Hamburg, Germany paid a visit of familiarization to Armed Forces Military Academy "Alexandru cel Bun"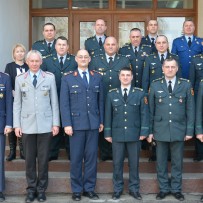 CHIŞINĂU, February 23, 2017 – Brigadier General Thomas Hambach, lieutenant-colonel Matthias Frierich and the military attaché of Federal Republic of Germany in the Republic of Moldova, with headquarters in Bucharest, lieutenant-colonel Marc Ascui, paid a familiarization visit to Armed Forces Military Academy "Alexandru cel Bun".
During the meeting, the acting commandant (rector) Armed Forces Military Academy, colonel Gheorghe Ţurcanu spoke to the guests about the history, stages of development of the military institution, objectives and tasks, and future goals of the military academy. The delegation visited the military subdivisions and the infrastructure of the academy.
The guests talked about the missions of Bundeswehr Academy from Hamburg and especially about its learning process.
Finally the representatives of Armed Forces Military Academy thanked officials for the paid visit to our institution and mentioned that even if our academy is a young one, it has big ambitions, and in collaboration with external partners we can reach high goals.
At this meeting participated the representatives of the Military Academy, teaching staff and National Army militaries, graduates of various courses in Federal Republic of Germany.