Commemorating the fallen heroes in the Dniester War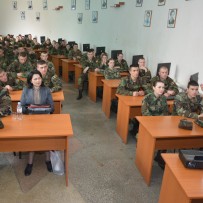 CHIŞINĂU, April 5, 2017 – The Scientific Conference "Commemorating the Fallen Heroes Fallen in the Cold Dniester War" was organised within the Armed Forces Military Academy "Alexandru cel Bun", where scientific researchers and participants of the tragic event from 1992 spoke about.
The acting commandant colonel Gheorghe Ţurcanu stated that the tragic event remains to be of a great importance in strengthening the national sentiment and promoting the national history, the scientific truth about the tragic events that took place in 1992, as well as the learned lessons from this dramatic experience of the Republic of Moldova.
The communications have had a common urge to promote the historical truth about the military conflict in Transnistria, the learned lessons in the field of national security and defence, as well as the lesson of national history and patriotism of the fallen heroes in battle to defend the integrity and independence of the Republic of Moldova.
The event took place in the Library of the Institution and it was organised by the Defence and Security Strategic Studies Center of the Military Academy with the participation of some of the institution's teaching and scientific staff and participants in the 1992 armed conflict.