The NATO expert colonel Gabor Boldizsar taught students on the "21st Century's Operational Environment"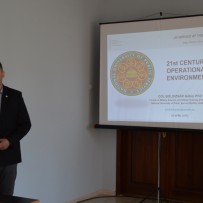 CHIŞINĂU, April 14, 2017 – During April 11th to 14th, 2017, the NATO expert, Mr. Gabor Boldizsar, representative of the National Public Service University of Hungary, paid a visit to the Armed Forces Military Academy "Alexandru cel Bun".
The expert lectured to bachelor's degree students, master's degree students and to students of postgraduate course in security and national defence field.
Mr. Gabor Boldizsar spoke on "21st Century's Operational Environment" and also he explained the complex operational environment, the identification of challenges and threats against the military forces, as well as the appreciation of doctrines to respond to these threats.
The acting commandant of the Military Academy, colonel Gheorghe Ţurcanu said that such lectures are productive because they offer the opportunity for military students and postgraduate students to learn about the current state of research at the national level with reference to the field of military in a specialized and interdisciplinary context. Also, the commandant thanked the NATO expert for the qualitative assistance and training offered to students.
The work visit is part of the Defense Development Enhancement Training Program (DEEP) activity plan.