Military Academy students participate in liquidation of consequences of natural disaster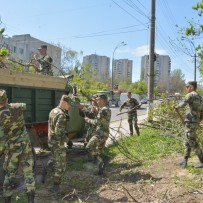 CHIŞINĂU, April 28, 2017 – The students and militaries under the contract of the Armed Forces Military Academy "Alexandru cel Bun" participate together with the municipal services in the action of liquidation the consequences of the natural disaster caused by the snow and the strong wind of the last week.
According to colonel Gheorghe Ţurcanu, acting commandant (rector) of the Armed Forces Military Academy, more than 160 students and officers of the institution are trained in sanitation works in various sectors of the city.
It is to be mentioned that the Military Academy's students and officers frequently participate in sanitation actions in the capital with the aim of combating the dumping of waste in unauthorized places.