Graduation certificates for militaries of the training course lower level I leaders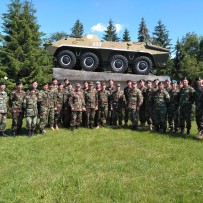 CHISINAU, May 19, 2017 – A group of National Army soldiers received graduation certificates of the inferior level I leaders Course.
From 27.03 to 19.05.2017, the continuous training Centre of the Armed Forces Military Academy "Alexandru cel Bun" organized the inferior level I leaders training course, held at ldp. Cahul.
According to lieutenant-colonel Ion Cozma, head of the continuous training Centre, during the training period, theoretical and practical lessons were held at various military disciplines, and at the end of the course, the 24 soldiers had a final evaluation that was held successfully.
It is worth mentioning that the course is required in the National Army to develop the sergeant body that will be promoted to NCO positions.