Graduates of the Military Academy assigned to military service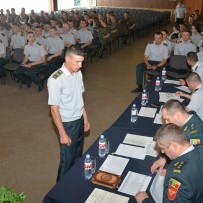 CHIŞINĂU, June 22, 2017 – The graduates of the Armed Forces Military Academy "Alexandru cel Bun" were assigned to military service, in the presence of the representatives of the Ministry of Defence and the leadership of the institution.
According to the acting commandant of the Military Academy, colonel Gheorghe Ţurcanu, the graduate students were assigned to military service by contract in the large units and military units of the National Army. Each graduate had the opportunity to select the desired function according to the general graduation average.
The graduates of the Military Academy on June 24 this year, starting at 09.30 a.m., will receive the bachelor's degrees diplomas and will be awarded the primary military degree of the lieutenant officers' body during the graduation ceremony, which will be organized in the Square of Metropolitan Cathedral "Naşterea Domnulu" in the capital.