The last evening call for graduates of the 2017 Promotion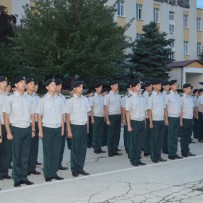 CHIŞINĂU, June 23, 2017 – For the 2017 graduates of the Armed Forces Military Academy "Alexandru cel Bun" was held the last evening call that took place on the plateau of the institution.
The ceremony was attended by the students and the leadership of the institution headed by colonel Gheorghe Ţurcanu, acting commandant (rector) of the Armed Forces Military Academy.
On this occasion, the young graduates had the opportunity to bid farewell to their colleagues with whom they spent their four-year studies, but also to the contract's military staff.
The ceremony of the last evening call for young graduates is a premiere for the Military Academy.