The admission contest started in the Military Academy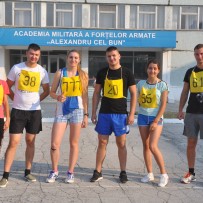 CHIŞINĂU, July 25, 2017 – At the Armed Forces Military Academy "Alexandru cel Bun" started the admission of the candidates for bachelor studies degree for the study year 2017-2018.
The admission session takes place between July 24 and 25, and 75 places for study were budgeted for young people.
According to the commandant (rector) Military Academy, colonel Sergiu Plop, the admission of the candidates is at three specialties, infantry, artillery and signal. At the admission contest, the abiturians support the following tests: the intelligence test and the physical training test.
Students admitted to the study will be trained during August for the younger student's integration course, in which enrolled students will learn basic elements of tactics, shooting instruction, front instruction, and at the end they will perform shootings.