Military graduates of the German language course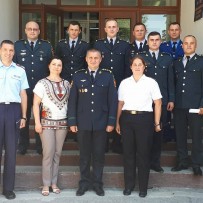 CHIŞINĂU, July 11, 2017 – A group of National Army soldiers graduated from the intensive basic course of German language studies and received the linguistic competence certificates during a ceremony organized at the Armed Forces Military Academy "Alexandru cel Bun".
Attending the event, the Military Attaché of the German Federal Republic in Moldova, headquartered in Bucharest, lieutenant-colonel Marc Ascui handed the graduation certificates and wished them success.
The commandant (rector) Military Academy, colonel Sergiu Plop stressed that language training is an integral part of the training and development of the personnel career in the National Army and offers real opportunities to participate in training courses abroad.
The course was held at the Linguistic Center of the Military Academy where the participants learned German for 20 weeks. The main objective is to develop the linguistic performance of the four skills (reading, listening, speaking, writing) with the assessment at the end of the course according to the STANAG 6001 criteria.