Students of the first year of study at the first practical shooting lesson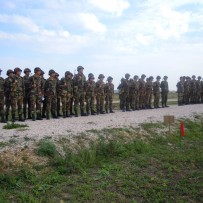 CHIŞINĂU, August 17, 2017 – Young people admitted to Armed Forces Military Academy "Alexandru cel Bun" have performed practical shooting lessons from the infantry weapons, at the Military Training Base of the National Army.
According to acting commandant (rector) Military Academy, colonel Gheorghe Ţurcanu, the integration course of the young students is currently under way and aims at familiarizing students with the specifics of military art and raising the moral-psychological state of adaptation to the requirements of the military environment. During the classes young people studied a complex of military disciplines: general tactics, shooting instruction, military regulations, front instruction, genius training, medical-military training, and social-state training.
In the practical lesson, most of the students were rated "good" and "very good. Performances recorded during practical lessons show that students have mastered the theoretical part well.
On the 25th of August, young people admitted to the studies will submit the Military Oath starting at 09.30 a.m. The ceremony took place on the plateau of the Armed Forces Military Academy "Alexandru cel Bun".