Graduation certificates of the UN military observer training course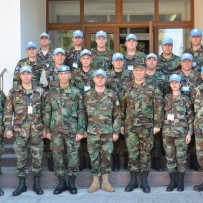 CHIŞINĂU, September 29, 2017 – The commandant (rector) of the Armed Forces Military Academy "Alexandru cel Bun" colonel Sergiu Plop handed out the certificates of graduation to the 17 militaries who participated in the training course of the National Army officers for the carrying out the missions as military observers in UN peacekeeping operations.
Colonel Sergiu Plop congratulated the staff of graduates, saying that such training is welcome for all those who intend to participate in UN missions as military observers.
According to the head of the Continuing Training Center, lieutenant-colonel Ion Cozma, during the training, September 11-29, the military participated in the theoretical sessions, followed by the practical ones that were carried out at the Military Training Base of the National Army, where the officers had the mission to act in practice according to a specific scenario for peacekeeping missions, similar to UN peacekeeping events and incidents, serving as military observers.
This course is conducted annually in English by the Military Academy Continuing Training Center.