Heroes never die. Armed conflict on the Dniester. Ist Edition, 2017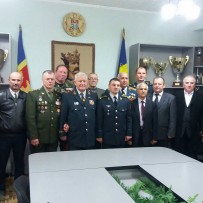 CHISINAU, November 27, 2017 – The staff of the Armed Forces Military Academy "Alexandru cel Bun" attended the round table "Heroes never die. Armed Conflict on the Dniester, 1st Edition, 2017 ", commemorating the fallen heroes during the armed conflict on the Dniester.
Attending the event, the acting commandant (rector), colonel Gheorghe Turcanu, during the official opening of the event, stressed the importance of strengthening national sentiment, promoting national history, scientific truth about the tragic events that took place in 1992, as well as the learned lessons from it dramatic experience of the Republic of Moldova.
The event was attended by militaries who led the fighting, including Brigadier General Nicolae Petrica, Brigadier General Vasile Grosu, Brigadier General Anton Gamurari, Colonel Anatolie Cociug and others participants in the 1992 armed conflict. The guests talked about the troubled and tough period in the history of the Republic of Moldova, caught between the desire for expansion of the Soviet Union and the rebirth of national feeling.
Such activities are organized annually within the institution, with the main aim being to keep alive the memory of those who have earned the honor to become heroes in this armed conflict, as well as the commemoration of the unknown heroes in their own country.