Extracurricular performances recorded by the military students under the aegis of the OSCE Mission to Moldova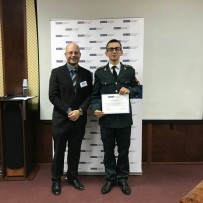 CHISINAU, November 27, 2017 – Iulian Melnic, student of the 2nd year, bachelor degree, of the Armed Forces Military Academy "Alexandru cel Bun" paid a study visit to the OSCE headquarters in Vienna, Austria on 22-25 November.
Therefore, in the mentioned period, the student Melnic successfully represented the student academic community at the OSCE headquarters in Vienna, asserting themselves through the knowledge gained in the "national security" discipline, and at the same time reconfirming the merits and usefulness of the knowledge gained in classes.
The student Iulian Melnic was selected at the OSCE Model Youth Conference, October 26-29, where the participants were involved in conflict resolution by reproducing the OSCE Permanent Council during a situation crisis.