The students of the Military Academy trained by international expert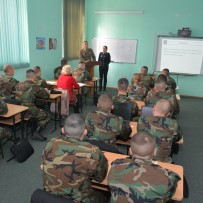 CHISINAU, November 21, 2017 – During the period 21-24 November, the NATO expert, major Giovanni DE SANTIS, representative of the Italian Army Command for Training, Specialization and Doctrine (COMFORDOT), Rome, Italy, is on an assistance visit within the Armed Forces Military Academy "Alexandru cel Bun".
The expert will provide a lecture course to bachelor students and to master degree students in the field of "Military profession ethics."
The acting commandant (rector) of the Military Academy, colonel Gheorghe Turcanu said that such lectures are productive because they offer the military students the opportunity to learn military expertise from international experts.
The visit is part of the Defence Education Enhancement Program (DEEP) activity plan.