Graduates of Major State Course for Inter-Officers received graduation diplomas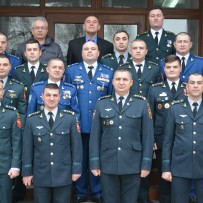 CHISINAU, December 21, 2017 – A group of National Army officers graduated the Major State Course for Inter-Officers organized by Continuous Training Center. The ceremony was organized in the Senate Hall of the Armed Forces Military Academy "Alexandru cel Bun".
The graduation certificates were handed over by the commandant (rector) of the Military Academy, colonel Sergiu Plop.
According to the head of the Continuous Training Center, lieutenant-colonel Ion COZMA, the course was organized and held between 30th of December and 22nd of December, and it is necessary for military staff to be promoted to higher positions.
This course is part of the National Army's Training Guide for military personnel and contributes to the continuous training of officers and to the training of officers as heads of departments or heads of state in major battalion (division) act as senior state officers in the brigades' major state.
The course was completed by 12 officers, representatives of the military units of the National Army.