Honor the Tricolor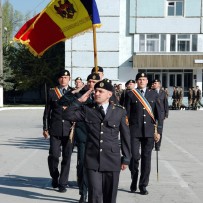 CHISINAU, April 27, 2013 – Military Academy "Alexandru cel Bun" marked the National Flag, within a military ceremony held on April 27 on the Military Academy territory.
The Tricolor National Flag blessing and the hoist on the mast were the key elements of the event. Within the military ceremony, State Flag was carried by four soldiers and was caught at the mast. Flag corners were tied by the rope of the mast, and a group of priests held a worship service and a prayer of blessing.
The Commandant (rector) Interim of Military Academy "Alexandru cel Bun" Colonel Sergiu Timercan, said that the flag is the symbol of statehood and independence of the Republic of Moldova, and honoring it is sacred for the militaries of the National Army.
"The militaries and civilians of Armed Forces Military Academy have a great respect for the flag of the country that symbolizes the centuries fight for freedom of our people." I wish all the citizens respected the country's flag, because to honor the flag means to honor the country you were born in and a true military honor," emphasized the commandant (rector) Interim of Military Academy.
        Moldova's national Flag Day is celebrated on April 27. The feast was established by Chisinau Parliament on April 23, 2010. The tricolor flag was officially designated as a state flag on April 27, 1990 by the members of the first legislature.