Graphic works from Romania for Military Academy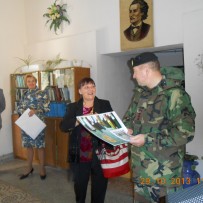 On the 29th of October  2013, in the library of the Military Academy of the Armed Forces "Alexandru cel Bun"  there was a donation of graphic works, the author of which is Constanța Abălașei – Donosă, master of arts in Braila, Romania.
Constanța Abălașei – Donosă, participates from the 28th of October till the 1st of  November 2013 at the "International Hall for Scientific and Didactic Book" organized by Central Library "Andrei Lupan" of the  Academy of Sciences, Moldova.
The donation includes 22 graphic works that are portraits of great personalities of our nation as well as  historical and remarkable monuments.