Representatives of public institutions participants in Cooperation Exercise in major cyber security crisis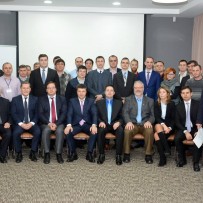 CHISINAU, December 30, 2016 – A group of representatives of the Ministry of Defense and of the Armed Forces Military Academy "Alexandru cel Bun" participated in an exercise of cooperation regarding the major crises of cyber security. The main purpose was to enhance the capacities of decision-making at national level.
According to organizers, more than 50 participants from different institutions regarding  cyber security field,  25 public institutions and private sector representatives participated in the exercise, held from 28 -30 November, by the European Cyber Security Initiative (ECSI), with financial support from the US Agency for International Development (USAID) and the Ministry of Foreign Affairs of Estonia.
Taking the international experience, but also being aware of the identified weaknesses in the management of crises in cyber space at national level, the  cyber security exercise aims to strengthen a coherent mechanism for regulating powers and identifying a consistent framework for a quick response and coordination in relation to cyber incident occurred.
The purpose of the exercise is to prepare people with decision-making and to draw their attention crisis management in cyberspace processes and promote the culture of cyber security. The exercise was of three modules / sessions on different aspects of cyber security. In the first day, there were presented subjects by international experts in the field of cyber security and cyber defense issues at government level, military and private institutions. The decision-making exercise was organized the next day and it was based on concepts and methodologies applied for cyber security crisis management. Finally, there were presented a generalization of information and practices including feedback during the last day of the exercise.
According to the scenario, representatives of public sector with decision-making positions alongside the private sector participated in simulations of actual cyber separate incidents testing so to what extent they are prepared to make the right decisions and respond successfully to attacks on critical managed infrastructures and to challenges arising from cyberspace.
It is worth to note that the participants of the Ministry of Defense participated in such an exercise for the first time. This exercise encourages soldiers to be engaged in decision-making activities at national level.