The congratulatory message on the Easter holidays of the commandant (rector) of the Armed Forces of the Military Academy "Alexandru cel Bun"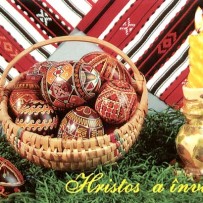 Officers, non-commissioned officers, students!
Dear Teachers!
The leadership of the Armed Forces Military Academy "Alexandru cel Bun" addresses the most sincere and warm good wishes on the occasion of the holy Easter holidays.
On the occasion of the Lord's Resurrection, we wish you to fill your hearts with the miracle of the Resurrection and have a lot of warmth, peace and quiet in your heart and bring you the happiness of spending these magical moments with your loved ones.
I want to wish you and your families much health, wisdom and power. God bless and protect you!
With high consideration and deep respect,
Acting commandant (rector) of the Armed Forces Military Academy "Alexandru cel Bun"
Colonel Gheorghe Ţurcanu