International university collaboration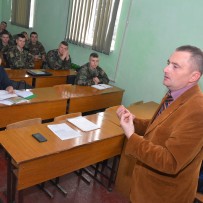 CHIŞINĂU, November 22, 2017 – prof., dr, in history, Mr. Antoniu Martinpaid a working visit to Armed Forces Military Academy "Alexandru cel Bun".
Mr. Antoniu Martin is an expert in the field of "Totalitarianism, European construction and democracy" and represents the Western University "Vasile Goldiş" from Arad, Romania. The working visit is carried out according to the interuniversity collaboration agreement.
According to the acting commandant (rector) of the Military Academy, colonel Gheorghe Turcanu, the meetings with military students are useful and offer a wide spectrum of knowledge and study of European construction subjects in the post-war era.