Military students at height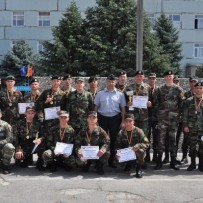 Chisinau, April 30, 2013 – The students of Military Academy "Alexandru cel Bun" got the trophy of the National Army Championship at weightlifting, that took place on the 30th of April this year in the Military camp 142.
According to Lieutenant-Colonel Vasile Olednic, the chief of the physical training and sport service of the National Army, there took part in the competition over 70 militaries, representatives of 12 teams of the military unities that competed at different weight categories-60, 65, 70, 75, 80, 85 and 90 kg.
The military students got the first places in four weight categories that were proposed by the organizers.
According to the results, the first place was given to the weightlifting team of the Armed Forces Military Academy "Alexandru cel Bun", the militaries of the Battalion with a special destination "Fulger" were on the second place and those of the Motorized Infantry Brigade "Moldova" were on the third place.
Present at the festivity of awarding the best weightlifters, brigadier general Vitalie Stoian, the chief of the general Staff of the National Army, commander of the National Army, was pleased with the results within the competition.