Scientific Conference in microelectronics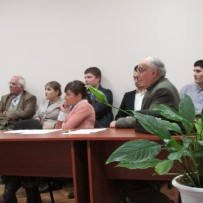 From the 22nd of the November till 23rd of November, a group of students and professors of the Military Academy of the Armed Forces "Alexandru cel Bun", participate in scientific conferences of collaborators, graduate students and UTM students, 2013 edition, held at the Technical University of Moldova.
According to Dean of Faculty of Military Sciences , Military Academy "Alexandru cel Bun" Lieutenant Colonel Genadie Safonov, military students present at the conference will present reports of information technologies.
The conference discussed a number of topics that are focused on the areas of automation and informatics, computers, computer networks, microelectronics, nano – technology and biomedical engineering , information technology, computer science applied, social sciences.